Promoting Peace, Love And Well-being, The Music Of Charles Langford Showcases His Roots In Jazz And Ability To Build Upon The Legacy Of Jazz Greats
Smooth and sophisticated, the music of Charles Langford is the product of a life dedicated to a love for jazz and uplifting listeners. For decades, Langford has been embedded in both his local and the international jazz scene in the United States. His latest single "For Ellyse" will be released on February 10th and will be part of Langford's new album and a focal point for his upcoming US tour.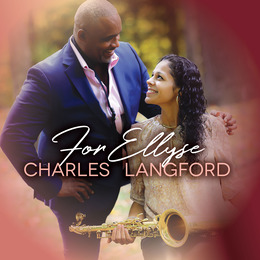 Born in Texarkana and moving to Massachusetts, Charles Langford began listening to jazz at a young age with his father who taught him how to differentiate the jazz greats of the time. This also helped to build his appreciation for the genre. As a teenager, he began writing songs and playing jazz sax, which allowed him to be a part of the local jazz scene and work with some of the greatest names in jazz at the time including The Temptations, Dennis Edwards, Solomon Burke, Koko Taylor, Susan Tedeschi, Melissa Morgan, Yusef Lateef, Archie Shepp, Donald Byrd, Steve Turre, Jimmy Haslip, Russell Ferrante, Avery Sharpe, Yoron Israel and many more.
At first, Langford aimed to use the tools that he learned from both his father and influential musicians to immerse himself in the local jazz scene by playing local venues. However, he realized that to truly evolve, he had to take his show on the road. From there, he spent the next few years with his band touring the country and appearing at several music festivals, eventually logging hundreds of shows. It was during this time that Langford also began writing music for the CBS daytime drama "The Young and the Restless", further allowing him to penetrate new markets and share his uplifting style of smooth jazz to a wider audience.
"For Ellyse" is the latest single from Langford and his current group of musicians. It is the natural progression of an artist who both appreciates the roots of the genre and it's evolution. Although some may classify it as smooth jazz or adult contemporary, experimentation and musical prowess allows Langford to craft melodies that bend traditional conventions. However, he does this without straying too far from the root material that he learned from some of the truly greats within the jazz genre. The track will appear on his upcoming album, set to be released on February 13th, a few days after the single drops.
Over the next few months, Langford and his band are working on booking venues across the United States as part of a countrywide tour that will feature some of the biggest names in modern jazz music. "For Ellyse" will be available on iTunes, Spotify, Amazon music and all other digital outlets starting February 10th. This will give listeners with a glimpse of what to expect from what promises to be a strong album release from Langford and the musicians he has hand picked to aid him in his musical journey. For more information on Charles Langford and his traditional yet experimental style of jazz music, visit his official website at www.charleslangfordmusic.com. And don't forget to check out his past releases on his YouTube channel or even contact his booking agency at www.kennethcarolagency.com for more information.
Media Contact
Company Name: 3000 Records
Contact Person: Terrance Schemansky
Email: [email protected]
Phone: 586-480-3000
Address:P.O. Box 285
City: Greenville
State: SC
Country: United States
Website: http://www.charleslangfordmusic.com